From the glittering cabarets of Paris – let's can-can!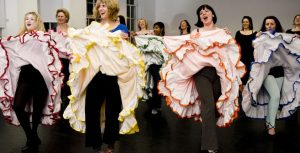 The French can-can! This playful and spirited dance has been a firm favourite in Paris since the early 19th century. It's the perfect blend of excitement, energy and a certain je ne sais quoi. Our can-can party will teach you the famous and time-honoured moves, creating a high- (or not so high…) kicking, skirt-swishing, whooping extravaganza! We celebrate the traditional French can-can with the well-known spécialités such as the high-kicking battement, the famous can-can chorus line and, of course, a flash of the derrière.
Every class member will get a fully-frilled can-can skirt to use in the class. Our can-can parties are enjoyed by ladies of all ages, shapes and sizes – and sometimes the men-hens too.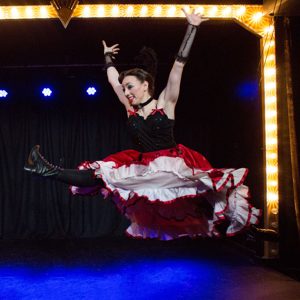 Our teachers are professionally dance trained and have years of stage experience. We will take you on a whirlwind tour of the French can-can in a secure, fun environment. You'll be transported to the Moulin Rouge, the Folies Bergere, the Lido…  Be prepared to realise your alter-ego – and take her partying afterwards!
Kicking, pirouetting, whooping…
No prior dance training is needed, as we begin with the basics and take it at your pace, with the emphasis on fun. You'll soon be kicking, pirouetting and whooping with the best of them. Regardless of your age, size, shape or dance ability, our can-can class is for you. Voila!
A memorable two hours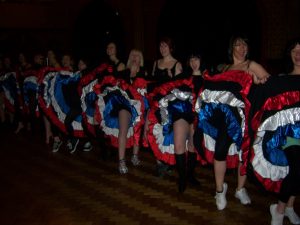 Our can-can hen party lasts two hours. You'll create your can-can name, learn the art of posing (you'll never pose for a holiday snap the same again!). You'll learn the famous can-can steps, and their French names if you're feeling clever (tire-bouchon anyone?). And all while dressed in your fully-frilled can-can skirts, which we provide. Tailored to the group's ability, this hen party is suitable for anyone with reasonable fitness levels– jump splits are optional!
Enter the spirit of the Parisian night
This class will take you on an energetic journey – step by step, kick by kick and wink by wink. So let your inner cancaneuse kick her way forward and start thinking like a skirt-swishing, leg flashing, whooping extravagant. Come create your own Moulin Rouge troupe!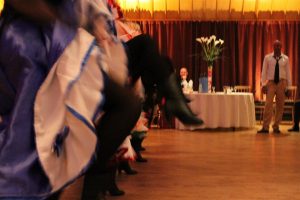 With an impressive history of professional can-can dancing, our Academy leaders, Gypsy Charms and Viva Misadventure, have can-canned in Paris cabarets, appeared as can-can mentors on Channel 4's 'How To Look Good Naked' with Gok Wan, and led the Irn-Bru world-record breaking can-can in Glasgow.
What to wear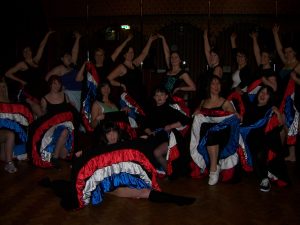 We will provide the essential frilled full can-can skirts for your group. Remember, you will be kicking and flashing your derrière, so please wear suitable clothes to go underneath your skirt – leggings, shorts, or perhaps big frilly knickers! We recommend you wear supportive sports or dance shoes, such as trainers or jazz shoes. Comfortable shoes with a strap are also fine. The strap is important – with all those high kicks, we want your shoes to stay on your feet, not fly across the room and hit someone else. (This has happened.)
But will it be fun?
Yup! Take a look at our hen party testimonials, gathered since 2007. We're really proud of them. We aim to exceed customer expectation, and would be privileged to make your group's hen party one to remember.
How to book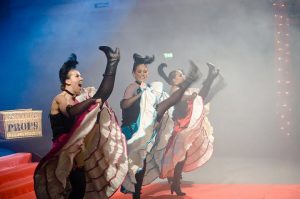 Price: from only £220 per party! Cost depends on number of participants and location. Please contact us for more information and booking, or take a look at our Ts and Cs here.
Can-can not for you?
Not a problem! Head back to our Hen Party page where we can point you in another direction.
Our can-can hen parties are held across the UK in Scotland, England, Wales, and in Ireland. Burlesque hen parties in Aberdeen, Aviemore, Ayr, Bath, Belfast, Birmingham, Blackpool, Bournemouth, Brighton, Bristol, Cambridge, Canterbury, Cardiff, Carlisle, Cheltenham, Chester, Cork, Coventry, Derby, Dublin, Dundee, Eastbourne, Edinburgh, Exeter, Falkirk, Galway, Glasgow, Gloucester, Guildford, Harrogate, Hull, Kirkcaldy, Inverness, Ipswich, Lake District, Lancaster, Leeds, Leicester, Limerick, Liverpool, Llangollen, London, Manchester, Maidstone, Middlesbrough, Milton Keynes, Newcastle, Newquay, Norwich, Nottingham, Oxford, Perth, Plymouth, Portsmouth, Reading, Scarborough, Sheffield, Southampton, St Andrews, Stirling, Stoke-on-Trent, Sunderland, Swansea, Swindon,Torquay, Waterford, Winchester, Windsor, York.
We can come to you! – ask us if you have a location not mentioned here.