Rhinestones, feathers, lights… showtime!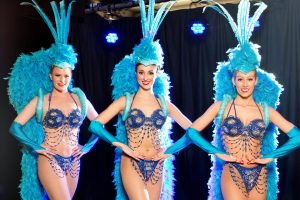 The Moulin Rouge… the Copacabana… the Stardust Casino… we will bring the glamour of the classic showgirl cabarets to you!
Imagine yourself in resplendent in feathers, crystal-encrusted costumes, and a towering head-dress. And unlike the Lido in Paris, there's no minimum height requirement (5'10" – eek) for our showgirl experience. Impossibly elegant, and with legs up to your ears, your group will strut, pose, promenade and high-kick (or low-kick – we're not judging.) And be sure to keep that non-stop showgirl smile on your face while doing it!
Throughout this class, we will teach you classic showgirl poses and dance moves. With plenty of T and T (and if you don't know what this means, you'll soon learn), this class will make you stand taller, increase your inside leg measurement by at least 3 inches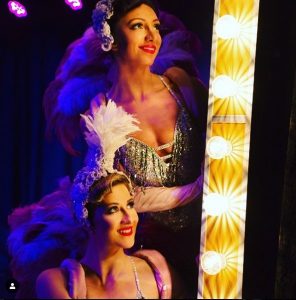 and ensure you always 'bevel' in your holiday snaps.
Our showgirl hen parties are enjoyed by ladies of all ages, shapes and sizes (and occasionally the men-hens too).
Our teachers are professionally dance trained and have years of stage experience. Brimming with personality, they will take you on a whirlwind tour of showgirl dance in a secure, fun environment.  Our showgirl hen party is guaranteed to make you feel elegant and confident, transporting you into an alluring world filled with glamour.  Be prepared to realise your alter-ego – and take her partying afterwards!
Moulin Rouge showgirl
No prior dance training is needed, as we begin with the basics and take it at your pace, with the emphasis on fun. You'll pose like a Moulin Rouge showgirl, high kick like a Rockette, and strut like a Vegas chorus girl. Regardless of your age, shape, size, or dance ability, you can be a showgirl!
A memorable two hours
This two-hour showgirl class will take you on a glamorous journey. You'll pass through the famous showgirl cabarets of Paris. Recreate the magic of the Moulin Rouge, the most famous of all cabaret shows. See if you have what it takes to become a 'Bluebell Girl' at the Lido. You'll then head across the Atlantic to Las Vegas where you'll glide your way through a show-stopping, splicing group number. Your very own Las Vegas showgirl extravaganza!
What to Wear
In terms of what to wear – anything goes! We recommend wearing comfortable clothes and shoes as this is a movement-based class. However, dressing up is part of the fun, so go ahead and dress like a showgirl if you want. Think feather head-dresses, brightly coloured clothes and feather boas. If you've got your own crystal-encrusted G-string you want to wear, that's fine by us!  Some groups are in costume, some are in leggings and T-shirts. It's totally up to you! You might like to bring a pair of moderately high heels, all the better for all the strutting and posing you'll be doing. Please don't dance in bare feet though. We can't guarantee the floors of function rooms are glass-free, no matter how much we sweep up before the class.
But will it be fun?
Yup! Take a look at our hen party testimonials, gathered since 2007. We're really proud of them. We aim to exceed customer expectation, and would be privileged to make your group's hen party one to remember.
How to book
Price: from only £220 per party! Cost depends on number of participants and location. Please contact us for more information and booking, or take a look at our Ts and Cs here.
Showgirl not for you?
Not a problem! Head back to our Hen Party page where we can point you in another direction.
Our showgirl hen parties are held across the UK in Scotland, England, Wales, and in Ireland. Showgirl hen parties in Aberdeen, Aviemore, Ayr, Bath, Belfast, Birmingham, Blackpool, Bournemouth, Brighton, Bristol, Cambridge, Cardiff, Carlisle, Cheltenham, Chester, Coventry, Derby, Dublin, Dundee, Edinburgh, Exeter, Falkirk, Glasgow, Gloucester, Guildford, Harrogate, Hull, Kirkcaldy, Inverness, Ipswich, Leeds, Leicester, Liverpool, London, Luton, Manchester, Maidstone, Middlesbrough, Milton Keynes, Newcastle, Newquay, Norwich, Nottingham, Oxford, Perth, Plymouth, Portsmouth, Reading, Scarborough, Sheffield, Southampton, Stirling, Stoke-on-Trent, Sunderland, Swansea, Swindon, Torquay, Windsor, York