Hide and Reveal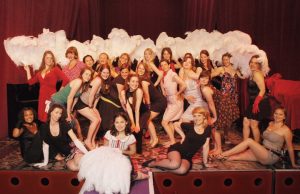 Feather fan dance – a burlesque favourite! Have you dreamed of slinking about a stage dressed in (ahem) very little, but hiding your modesty with feather fans? Fan dancing is a show-stopping burlesque dance style: elegant, beautiful and daring.
We will provide you with two full size ostrich feather fans per student. Our fan dance party takes you through a whistlestop tour of feather fan dancing, both burlesque style and showgirl style.
Our fan dance parties are enjoyed by ladies of all ages, shapes and sizes – and sometimes the men too.
Our teachers are professionally dance trained and have years of stage experience. We will take you on a whirlwind tour of fan dance in a secure, fun environment. You'll become the slinking, strutting, eternally smiling showgirl. Be prepared to realise your alter-ego – and take her partying afterwards!
Burlesque Fan Dance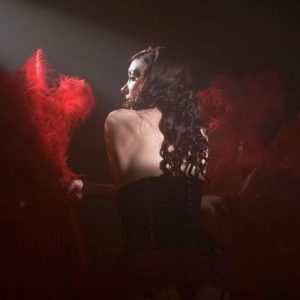 We will teach you how to 'hide and reveal', teasing your audience with the fans and focusing their attention on illusions of exposure in a beautiful (and cheeky) burlesque fan dance. You will learn the tricks of the trade, and discover the classic and not-so-classic feather fan moves. These will include the Demi, the 'peacock', 'angel wings', plus more risqué moves such as the infamous 'buttock clam'!
Cabaret Fan Dance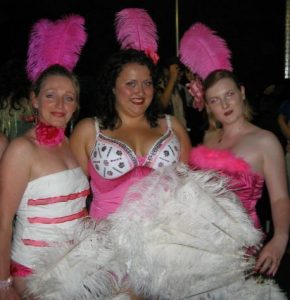 In the second part of the class, your group will become a dazzling chorus girl line-up. Imagine the Moulin Rouge and the Tropicana. Think of the fan dances in Chicago, and Mrs Henderson Presents. That's you! Creating a stunning formation showgirl routine with feather fans and glamorous choreography, we take inspiration from classic cabaret revues. Dazzling, dangerous, and with a certain je ne sais quoi, join us in creating your own troupe of Follies!
A memorable two hours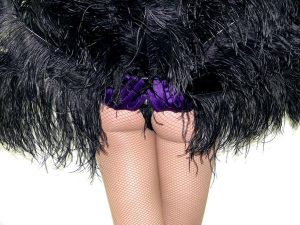 Our fan dance hen party lasts two hours. You'll create your showgirl alter-ego, and learn the art of posing (you'll never pose for a holiday snap the same again!). You'll learn tips and tricks of burlesque fan dancing. You will then dazzle on the showgirl stage. We teach technique and then incorporate it all into exciting and memorable fan dance routines. We'll make sure there's time for the essential photos and videos – our friendly teachers are happy to get your group poses perfect so you can capture them forever!
What to Wear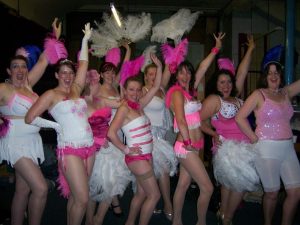 In terms of what to wear – anything goes! We recommend wearing comfortable clothes and shoes as this is a movement-based class. We will provide two full size ostrich feather fans for every member of your group – and it's up to you how much (or little) you wear underneath!… You might like to bring a pair of moderately high heels, as you will be slinking and strutting like a vintage movie star. Please don't dance in bare feet though. We can't guarantee the floors of function rooms are glass-free, no matter how much we sweep up before the class. Dressing up is part of the fun, so feel free to dress how you please! Some groups really enter into the spirit of it and don corsets and frilly pants. Some groups are in leggings or jeans and T-shirts. Totally up to you! You don't need to bring anything else, we supply all the props needed. False eyelashes and rhinestones optional!
But will it be fun?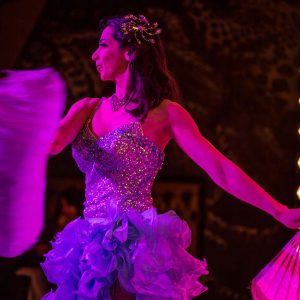 Yup! Take a look at our hen party testimonials, gathered since 2007. We're really proud of them. We aim to exceed customer expectation, and would be privileged to make your group's hen party one to remember.
How to book
Price: from only £220 per party! Cost depends on number of participants and location. Please contact us for more information and booking, or take a look at our Ts and Cs here.
Fan dance not for you?
Not a problem! Head back to our Hen Party page where we can point you in another direction.
Our fan dance hen parties are held across the UK in Scotland, England, Wales, and in Ireland. Burlesque hen parties in Aberdeen, Aviemore, Ayr, Bath, Belfast, Birmingham, Blackpool, Bournemouth, Brighton, Bristol, Cambridge, Canterbury, Cardiff, Carlisle, Cheltenham, Chester, Cork, Coventry, Derby, Dublin, Dundee, Eastbourne, Edinburgh, Exeter, Falkirk, Galway, Glasgow, Gloucester, Guildford, Harrogate, Hull, Kirkcaldy, Inverness, Ipswich, Lake District, Lancaster, Leeds, Leicester, Limerick, Liverpool, Llangollen, London, Manchester, Maidstone, Middlesbrough, Milton Keynes, Newcastle, Newquay, Norwich, Nottingham, Oxford, Perth, Plymouth, Portsmouth, Reading, Scarborough, Sheffield, Southampton, St Andrews, Stirling, Stoke-on-Trent, Sunderland, Swansea, Swindon,Torquay, Waterford, Winchester, Windsor, York.
We can come to you! – ask us if you have a location not mentioned here.