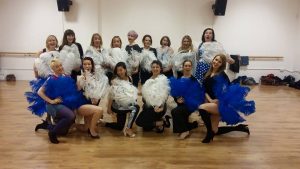 Cardiff classes not currently running. Please email viva at burlesqueandcabaret.com to join the mailing list and information will be sent out when it becomes available.
Think Dita von Teese, Gypsy Rose Lee and Bettie Page – we will take you through peeling, posing and teasing!  Slip on your seamed stockings and opera gloves, as Viva Misadventure leads you through the glamorous world of retro burlesque-striptease, introducing you to the art of tease, tassel twirling and the inimitable bump 'n' grind.  You will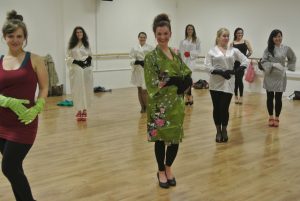 be asked to bring different items of clothing each week, and we teach technique and then incorporate it all into dance routines, observing the concepts of character and narrative, as well as the bawdy nature of British burlesque. Our classes are guaranteed to make you feel sassy and confident, whisking you away into a world of glamour and humour – be prepared to realise your alter-ego!
Unsure? Here's what some participants have to say about previous courses: "Sexy, sassy, fun filled sessions!" "A real boost to self esteem!" "Very inspirational course and full of fun. Great to lift the spirit at the end of a long day!" "A massive contributor to my new found confidence!" Check our Testimonials for more.